Controlling – Supporting transparency to the point
In the area of corporate management, you benefit from our expertise in the proper management of projects, strategic business units, companies, and corporate groups. The know-how is not limited to concepts. Our experts and staff have operational experience themselves and are able to implement improvements directly with your employees, resulting in increased transparency and acceptance of processes. We provide you with an information system with which you can systematically plan and control your company and analyze deviations in a timely manner.
Our support in controlling your company – a real added value for you!
We offer support in the following areas
Operational controlling
Deals with the internal situation of the company. This includes sales controlling, production controlling, inventory controlling, active accounts payable and accounts receivable management. For project manufacturers, controlling of the individual projects is part of this area.
Strategic controlling
Includes the development of strategic controlling tools for focused market development (example below) as well as the development of dynamic multi-level DB accounting and segment analysis as well as analysis of strategic business areas.
Financial Controlling
Is the analysis, further development and implementation of integrated corporate planning, plan/actual comparisons, forecast and dynamic forecast calculations as well as consolidation concepts. It also includes reporting standards for banks, advisory boards and corporate management.
Controlling various types of companies
We offer our expertise in particular also for industrial or production companies, for individual manufacturers and project manufacturers, for service companies and also for trade and wholesale companies.
If required, we are there for your company!
The following is an example on the topic: strategic sales management
The core of the "Focused Market Development" (FOKMA) is a contribution margin (CM)-based customer classification.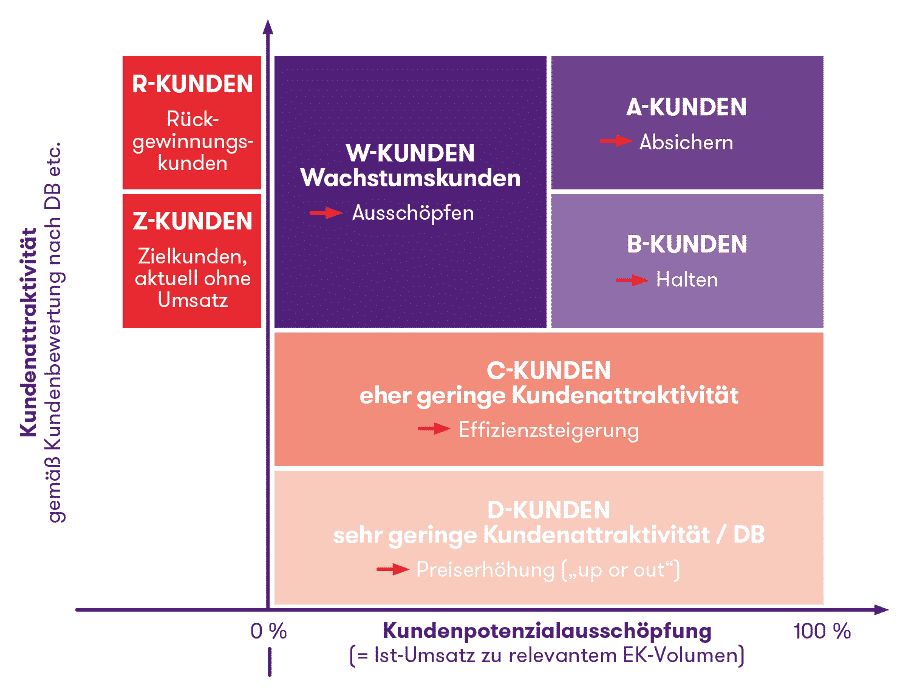 Results of the FOKMA
Eliminate loss-makers/secure profit-makers
Identify and exploit potential
Restructure sales territories
Differentiate internal service provision (e.g. service level)
Focus scarce sales resources on the customers/segments with the highest potential – both existing and target customers.