HANSE M&A clarifies in detail the expectations and goals attached to a company sale in order to then achieve the highest possible price for your company together with you.
There are many questions to be clarified, because as different as the companies are, so are the occasions for a company sale. Possible occasions for a sale can be, for example, the following:
IPO
Succession planning
Improvement of the capital structure
Earnings crisis or restructuring situation
Concentration on core business
Further expectations and goals that are tied to the sale of the company must be clarified as precisely as possible. These include, among others:
Is the sale about a whole company or only a part?
Is a minority or majority to be sold?
Is there any non-essential "small fry" that can/should be discarded?
What is being sold? A profitable, financed and well-organized company or the opposite?
What should the future of the company look like after the sale?
How long will the existing management be available after the sale?
Does a desired investor or desired target company exist? Is there a preference in terms of nationality or investor behavior?
Are there management gaps? And if so, how can these be closed by using external managers? Here, too, the HANSE Group can support with interim managers.
How will the sale be financed or what can the seller expect as a price? What role do taxes play?
Phases of the sale of the company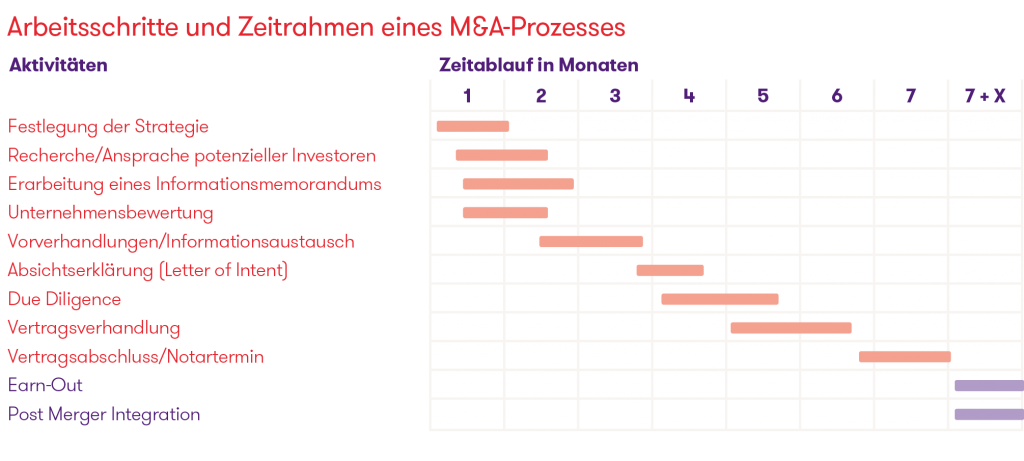 The top priority in the entire sale of a company is confidentiality!
Particularly in the case of competitors, there is a risk that interest may be feigned in order to obtain the seller's internal company data. The transfer of information about the company to be sold therefore takes place in a staged process:
in case of further interest, an anonymous short description is followed by a long exposé with the name of the seller and first internal company data only after signing a confidentiality agreement.
this is followed by initial discussions with potential partners.
truly confidential data such as contribution margins or customer names should only be disclosed in a due diligence process.