Focus on the value of the company
HANSE M&A advises entrepreneurs, medium-sized companies and their shareholders, as well as financial investors and family-owned groups on all aspects of company sales and succession planning, the search for equity and growth capital, and planned company acquisitions. Your specialist for mergers & acquisitions.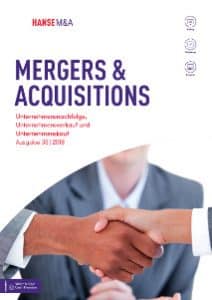 Since 1995
we, as a divison of HANSE Consulting,
have successfully advised more than 200 M&A mandates in a wide range of industries.
We have many years of experience and a large number of references both in M&A transactions of profitable medium-sized companies and in the area of so-called "distressed M&A" mandates, in which companies are sold in whole or in part in crisis situations or additional investors are raised to secure the turnaround.
HANSE M&A offers consulting services at the highest quality level with offices in Hamburg, Düsseldorf, Stuttgart, and Munich as well as a strong international presence through the Grant Thornton network (representatives in more than 130 countries). M&A processes are a great challenge and burden for those involved, whether as an entrepreneur selling his life's work or as a manager who has to cope with the additional burden of an M&A process in addition to his day-to-day business. HANSE M&A supports the parties involved with stringent process control, comprehensive communication, early identification of deal-breakers, and adjustments to the negotiation strategy. Thanks to HANSE M&A's many years of experience, the actions of the other side can be anticipated at an early stage, thus optimizing the results of the negotiations.
---
We are a highly experienced and capable team of transaction specialists and clearly stand out from many other mid-market M&A advisors due to the following success factors:
Tight project management in small teams.
Your contact persons handle all core elements of the mandate themselves – from approaching potential buyers to accompanying the contract negotiations.
Deep understanding of the respective business models and the resulting implications for the M&A process.
As part of the management consultancy HANSE Consulting, we can draw on a large research department in the background with profound market knowledge in a variety of industries – this facilitates the qualified and targeted selection of potential investors / buyers or target companies for planned acquisitions.
In international M&A processes with potential buyers, e.g. from Asia or the USA, we can involve our colleagues from the global Grant Thornton network if required.
If necessary, a large number of specialists from the areas of Finance & Controlling, Market & Strategy, and Organization & Process Optimization from HANSE Consulting can be accessed directly.
---
Your M&A contact